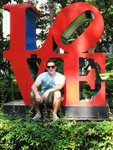 Mason
Location: Washington, DC
Occupation: GlobalGiving Volunteer/ Student
My Passions: Although I am still looking for my calling, I am know I am passionate about people. I also love to travel, run, lift weights, spend hours in deep conversation, play soccer, read, and listen.
About My Inner Philanthropist (why I give): My desire to give is innate and surely passed on from my parents. The hugely unequal distribution of wealth in this world is repulsive - why are there almost as many people dying from overnourishment as malnutrition? I know I'll live a life dedicated to philanthropy in one way or another.
Mason's Giving Stats: