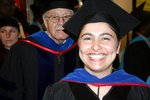 satenik
Location: Jersey City, NJ
Occupation: Assistant Professor
About My Inner Philanthropist (why I give): I witnessed the value of unconditional giving after the earthquake in Armenia in 1988. Coming from a developing country I can appreciate high standards of living in the US. I know that even the smallest contribution can be meaningful. The most important thing is to find an organization of like-minded people who operate in a transparent manner.
satenik's Giving Stats: