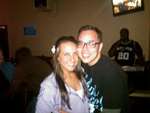 Kristen Hauck
Location: Herndon, VA
Occupation: Nanny & Counselor
My Passions: Psychology, writing, children, animals, music, philanthropy, education, cooking.
About My Inner Philanthropist (why I give): I've always had a pay it forward kind of outlook on life. It's disturbing to see some people live in excess while others have nothing. We have shows like Man vs. Food for entertainment value while there are people (probably in that same city) who are poor and starving. I am a part of the middle class, I don't have a lot of money. But if I can spare some time or cash here and there, so can others, and the world really would be a better place.
Kristen Hauck's Giving Stats: