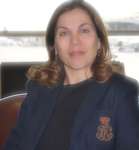 Nowell Sukkar
Location: Riyadh, Saudi Arabia
Occupation: IT sales & marketing
My Passions: I am passionate about Educating Girls and about spreading the word on how we can each simply; easily and conveniently make a difference. At www.girleffect.org you will find, just like I did, the information & tools you need to be a part of the GE.
About My Inner Philanthropist (why I give): The Girl Effect is something I gravitated towards after reading 'Three Cups of Tea' by Greg Mortenson. Then I read 'Half The Sky' by Kristof & Wudunn, its about the struggle for equality by women and their daughters around the world. My 76yr old mother who was born and raised in the mountains of North Lebanon, has never been to school, as a child I would read to her, I always wished my Mum had had the chance to go to school. Supporting The Girl Effect is my way of honoring my mother.
Nowell Sukkar's Giving Stats: