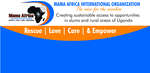 mamaafrica
Location: Uganda
Occupation: child care & community Empowerment
My Passions: Making others smile
About My Inner Philanthropist (why I give): I give because i was given .when i had lost hope of my Future,some One (Pastor Dithan ) gave me a hand and raised my hope again. its a way of giving Back. I love it !!!
mamaafrica's Giving Stats: