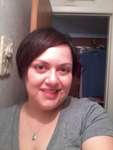 Justyne
Occupation: High school teacher
My Passions: I'm passionate about women's issues such as self-esteem growth, combating negative body image, reproductive rights, and aiding girls in the developing world.
About My Inner Philanthropist (why I give): I am extrordinarily blessed to have been born in the U.S. I want to help girls and women that don't have the opportunities I've had. I also aim to help women and girls believe in themselves. The best way to start is to believe in yourself and to love yourself.
Justyne's Giving Stats: