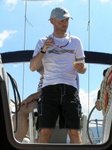 MikeB
Location: Barcelona, Spain
Occupation: Management consultant
My Passions: Good ideas. Like this one....
About My Inner Philanthropist (why I give): I firmly believe the way to engage people and encourage more donations is to make it relavent, make it personal. I'm going to donate to malaria relief as I caught it once and cannot imagine what it must be like to be 5 years old and catch it with no access to medicine.
MikeB's Giving Stats: