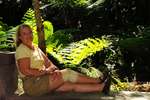 Jennifer Chadwick
Location: Sebastopol, CA
Occupation: Tax Accountant
My Passions: I'm a Master Gardener, care for parakeets, love to travel, create beaded jewelry, loom weave and make skin products including soap.
About My Inner Philanthropist (why I give): Enjoy life while we can and keep learning. The more experiences that we have in life, the more stable and wise we become. That's why traveling around the world is paramount in becoming a more sophisticated person. We need to support causes that make the earth a better place to live and travel.
Jennifer Chadwick's Giving Stats: