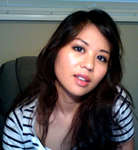 Sheilla
Location: BC, CANADA
Occupation: Sales Support Manager
My Passions: Oil Painting, Aromatherapy, Music, and Traveling.
About My Inner Philanthropist (why I give): I want to contribute to an organization/project that supports education and self-empowerment. Giving financially or by being a volunteer Graphic Designer makes me happy and motivates me to do more. It is an honour - and thank you to Global Giving for giving these great projects the exposure they need.
Sheilla's Giving Stats: