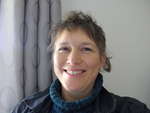 JennyLanham
Location: Sydney, Australia
Occupation: Disability Support Worker
My Passions: Hello! My passions in life are yoga, Buddhism, learning about the way of Jesus, art, natural therapies, travel, living in a simple way, environmental and animal welfare [ I am a vegetarian, mostly vegan too]. I love nature and find inspiration there.
About My Inner Philanthropist (why I give): I started giving to charities and doing volunteer work in about 1999. THis was inspired by starting to look into Buddhism and being introduced to values of altruism and caring for others. At about that time I started volunteering in a soup kitchens for homeless people run by Christian organizations. The I started to donate to charities to make my work more meaningful, to feel I am contributing to positive change in the world in the here and now.
JennyLanham's Giving Stats: