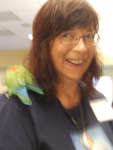 Cheryl Dickinson
Location: Pacifica CA
Occupation: MickaCoo Pigeon and Dove Rescue - Volunteer
My Passions: I love to be happy and also to help pigeons.
About My Inner Philanthropist (why I give): I believe in Universal Law. The Golden Rule. What you give will come back to you! I know it for real, it is the truth!
Cheryl Dickinson's Giving Stats: