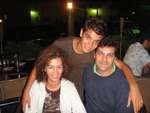 Guillermo
Location: Surfside, Florida, U.S.
Occupation: IT Manager
My Passions: My family, my friends, our foundation, watch my son's games, play soccer,.
About My Inner Philanthropist (why I give): Since I was a child my parents taught me the importance of giving and sharing, and this is part of our universal law, love. Every action we take, every sentence we say, every gesture we make, represents our home, our family and our friends, and if these actions are for helping, we always know we're on the right track. Understanding the exponential impact that causes each time we help, for more small that the help could be, it is a constant motivation to push us further and spread it to others.
Guillermo's Giving Stats: