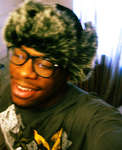 Isaiah Johnson
Location: newport news
Occupation: business owner/clothing line
My Passions: fashion and helping others if i can. I am not perfect but i try to be that person that is deep down insides us all.
About My Inner Philanthropist (why I give): its a good this to do bottom line. even if your not in the mood you should try. we should try to be good people. i tell myself that almost everyday. help someone and watch your blessing add up!!
Isaiah Johnson's Giving Stats: