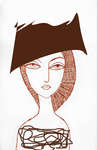 Elzbieta Dymkova-Fuchs
Location: Ontario
Occupation: Visual artist
My Passions: I am donating to Japan's earth quake victims. Thank you to wonderful people who bought pictures form my ivona2 etsy shop! Your doantions help!
About My Inner Philanthropist (why I give): Jump in,as in moments like this every blanket, every bottle of drinking water, every haed ache pill help people in need.
Elzbieta Dymkova-Fuchs's Giving Stats: