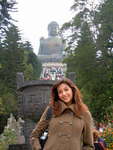 stephaniebartlett
Location: Shanghai
Occupation: Student Intern
My Passions: I would say Im a very passionate person generally sometimes taking things too passionately! I am passionate about life itself...
About My Inner Philanthropist (why I give): I give because I live a life of normality, while others are living lives below proper standards of living, whatever it may have been caused by. Honestly, I find it shocking and saddening what goes on in the world and I would rather give money away to the people that need it than spend it on my normality.
stephaniebartlett's Giving Stats: