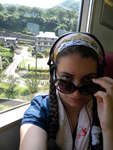 4Sendai
Location: Missoula, Montana
Occupation: Student
My Passions: Linguistics, Psychology, Children, Animals, Traveling, and Helping those in need.
About My Inner Philanthropist (why I give): "Let us not be satisfied with just giving money. Money is not enough, money can be got, but they need your hearts to love them. So, spread your love everywhere you go." "We ourselves feel that what we are doing is just a drop in the ocean. But the ocean would be less because of that missing drop." "If you can't feed a hundred people, then feed just one." "Intense love does not measure, it just gives."
4Sendai's Giving Stats: