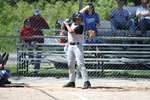 Cindy
Location: North Liberty, IA
Occupation: School Business Official
My Passions: Children. My son is everything to me. We are blessed that we have access to great health care, education, and a nice home. My job allows me to map out a healthy financial school district which brings me great pride.
About My Inner Philanthropist (why I give): It's extremely important to me to teach my son that life is not about x-box and accumulating possessions. Life is about how are you going to leave a positive impact on the world. We live paycheck to paycheck, but that does not mean we can't make a few "sacrifices" to help someone have nutrition.
Cindy's Giving Stats: