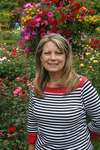 Darcus Williamson
Location: Texas
Occupation: Marketing
My Passions: There is so much we can do if we just take the first step. One step leads to another step. Before you know it you've made a difference. Commit to saving a life. Take the first step.
About My Inner Philanthropist (why I give): Every child deserves clean drinking water. This year I am asking my friends and family not to buy gifts, but to donate $20 towards clean drinking water. When you buy bottled water or fill your ECO Friendly water bottles, please remember there are children in this world that do not have access to clean drinking water. My goal is to raise $500. Please be a part of Changing the World. Please give a child the Gift of Life.
Darcus Williamson's Giving Stats: