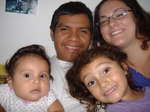 Sara Jimenez
Location: Cincinnati, Ohio
Occupation: Stay at home mom
About My Inner Philanthropist (why I give): I give because I want to be able to help. I know what it is like growing up poor, I do not know what it is like to grow up with absolutely nothing though. I don't think anyone should know what that's like.
Sara Jimenez's Giving Stats: