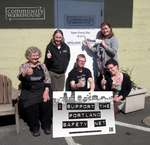 Jocelyn
Location: Portland, OR
Occupation: Nonprofit Management
My Passions: Everyone being able to meet their basic needs and go beyond to create lives of passion and meaning, doing what they love and giving from their hearts!
About My Inner Philanthropist (why I give): I've seen the power of small donations to make big impacts. When we pool our resources together, we really can change the world. That means me and my $10! I'm also reminded constantly of how blessed I am in so many ways. Giving as generously as I can is the only way to go.
Jocelyn's Giving Stats: