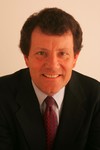 Nicholas Kristof
Location: New York
Occupation: Journalist
My Passions: Global health and justice -- and backpacking!
About My Inner Philanthropist (why I give): Money goes so much further in poor countries; $20 buys me very little pleasure in New York, but it can make a huge difference in Ethiopia. And since I won the lottery of birth, I feel I should share with those who didn't.
Nicholas Kristof's Giving Stats: