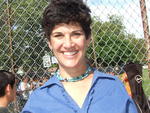 tufluv
Location: Woodland, CA
Occupation: teacher
My Passions: I love kids, and I love teaching! Much of my free time is spent in the garden or exploring new places to travel to in California.
About My Inner Philanthropist (why I give): It's great to give something back, and forget about the craziness of shopping. It means a lot more to me when I give to an organization I care about!
tufluv's Giving Stats: