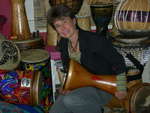 Monica
Location: Canada
Occupation: women/children's advocate/drum circle facilitator
My Passions: Empowering women, and through them their children and families, locally and globally. Enhancing the status of mothers and the job of mothering through education and activism. Encouraging community-building through rhythm. (rhythm-spirit.blogspot.com)
About My Inner Philanthropist (why I give): When women are supported and learn their worth, they become more cherished members of society. In turn, their children and families fare much better. My focus is on women because although they constitute over half the world's population, they are mistreated, and their work (especially mothering) is under-valued, on a massive global scale. I have been inspired by the book "Half the Sky" to fully support the movement to empower women and their families by acting both locally and globally.
Monica's Giving Stats: