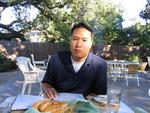 kenchen21
Location: San Francisco, CA
Occupation: Marketing Consultant
My Passions: Children, education, the environment, anything that inspires others.
About My Inner Philanthropist (why I give): I think it's important to give what you have to others. We live in an age of wealth and comfort never seen before, while so many others are in need.
kenchen21's Giving Stats: