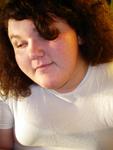 Helen Hagler
Location: Oroville, CA
Occupation: Graphic Design Major
My Passions: Music, Writing and anything that provides people with creative outlets for there thoughts and feelings.
About My Inner Philanthropist (why I give): I give to charities that support the arts because I support the arts. Especially in our country there has been a decline in the importance of art and music in schools. I would like to see that change and everyone knows: the only way to get something done is to do it yourself.
Helen Hagler's Giving Stats: