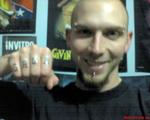 sheeat
Location: Joplin, Missouri
My Passions: The Universe and music. I particularly love Heavy Metal and Rock.
About My Inner Philanthropist (why I give): Although not everyone shares the same interests in music, I believe music is one of the greatest things humans have created. Music makes me feel great, and I'm hoping I can help someone find a love for music by donating to Little Kids Rock.