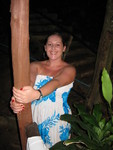 Carlota
Location: Sydney, Australia
Occupation: Human Rights student
My Passions: My passion is Human Rights, particularly Women's Rights. I am studying for a Master of Human Rights in the hope that I will be able to help women and girls have access to education, self-empowerment and economic independence.
About My Inner Philanthropist (why I give): I've had a fortunate life, I've been educated, I've travelled the world and I feel very lucky. I want to help people who haven't been as fortunate as I have and who haven't had the opportunities that I've had.
Carlota's Giving Stats: