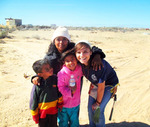 carmengoman
Location: Phoenix
Occupation: Student/Substitute Teacher
My Passions: Lack of education and poverty go hand in hand, and I want to be a part of the movement to destroy both evils.
About My Inner Philanthropist (why I give): I am heartbroken at the poverty that exists and feel so undeserving of what I have. I feel so helpless when it comes to tackling such massive issues as world poverty but I'm excited to be able to help, one step at a time.
carmengoman's Giving Stats: