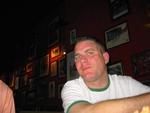 LarryGdc
Location: Centreville, VA
Occupation: Communications Director
My Passions: I enjoy my life and want the same for others. Being able to wake up in the morning and eat my breakfast with my partner, having the time to appreciate the world around me, talking to my dad...Shouldn't we all have the chance to enjoy that?
About My Inner Philanthropist (why I give): Bluntly, I've seen how hard it is for people to simply survive from day to day. I'm fortunate in the extreme. I turn on the tap and get clean water. I go to Whole Foods and buy organic, safe produce. It doesn't take much to share some of that fortune with others.
LarryGdc's Giving Stats: