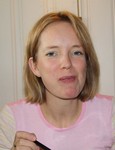 Ragnhild Larsen
Location: Oslo
Occupation: consultant
My Passions: I love helping poor children by giving them an education.
About My Inner Philanthropist (why I give): I collect used clothes from my family and friends to send to women and children in southern Sudan. I am also sponsoring two poor refugee children to go to school in Uganda through HopeOfiriha. I support their cause because they are helping women and children to get out of poverty.
Ragnhild Larsen's Giving Stats: