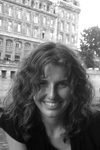 Lorraine Ross
Location: Washington DC
Occupation: In The Field: West Africa Intern
My Passions: Lorraine enjoys Pilates, travel, reading, all things French, and cabins in Montana.
About My Inner Philanthropist (why I give): This is Lorraine's first trip to West Africa and she is excited to go! Lorraine is most recently from the great state of Colorado, but is a native Mid-westerner. Her undergraduate degree is from The University of Colorado at Boulder where she graduated magna cume laude. She has just finished the first year of her Master of Public Administration degree at American University. Currently, Lorraine is working as a Pilates instructor and a consultant for development firms.
Lorraine Ross's Giving Stats: