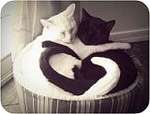 Kittenmancer
Location: Amsterdam
Occupation: QA Manager
My Passions: Games, books, cats, steampunk, swords.
About My Inner Philanthropist (why I give): I know what it's like to be deprived of things you need, things you want. I've come a long way and I'm now in a position to help others who are even more deprived than I ever was. Here and now, it's such a little thing for me to give a few euros. And such a huge difference it can make for others. So they can have a chance like I did and change their life for the better.
Kittenmancer's Giving Stats: