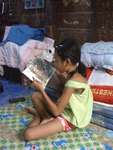 TrailDale
Location: Thailand and Florida
Occupation: Retired, President AM-Rho Laboratories. Currently volunteer work.
My Passions: Helping others by giving to SiamCare.org is important I believe, after having been a soldier in the Vietnam War. Giving back to help families, children and prisoners who deserve help is a rewarding experience. I know, I personally visited SiamCare.
About My Inner Philanthropist (why I give): This donation to SiamCare.org helps me personally from the scars the Vietnam War left on me and on Southeast Asia. I remember all too often the children bleeding in the streets of Tu Duc, which fell during the Tet Offensive of 1968. As a combat medic in the 1st Infantry Division I treated the civilian children for many days following the intense battle. Now I have a chance to give something back by my small gift but important gift to help support the work of SiamCare.org God bless, Dale A.
TrailDale's Giving Stats: