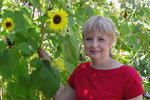 Sandi
Location: Asheville, NC
Occupation: Retired
My Passions: As a former teacher, I know that education is the basis for empowerment & change.
About My Inner Philanthropist (why I give): I am thankful for what I have and want to share. I feel all the people of the world are connected to each other and God. When we help one person, we help many.
Sandi's Giving Stats: