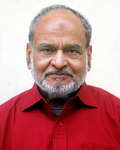 Abdus Sobhan
Location: Bangladesh
Occupation: Retired. Volunteering time to help the needy in the society.
My Passions: 1. Running a charitable hospital for the cataract patients, Diabetic patients, Child patients and Prenatal care for poor mothers. 2. Free training to poor girls. 3. Distributing wheelchairs to needy physically handicapped people.
About My Inner Philanthropist (why I give): I believe that "The easiest way to satisfy my God is to Serve His Creatures".