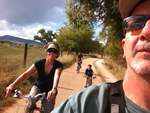 Frank
Location: Colorado
Occupation: Retired, silversmith
My Passions: 1. Volunteering - Tri-Lakes Cares (local food bank), The Butterfly Tree, and Trees Water People 2. I love the outdoors and am an avid canoeist, fly fisherman, backpacker and hiker.
About My Inner Philanthropist (why I give): Through giving, whether it be time or resources, I've been able to learn more about myself and others.
Frank's Giving Stats: