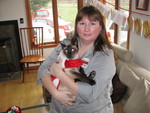 especially_spoiled
Location: Gambrills, Maryland USA
Occupation: Office Administrator
My Passions: I am passionate about helping Siamese cats get healthy and go to loving homes by donating and being a transport volunteer for the Siamese Cat Rescue Center (www.siameserescue.org).
About My Inner Philanthropist (why I give): I donate to help feed and educate girls in other countries. I also donate for economic development, food and education in Madagascar because I use to live there when I was a child.
especially_spoiled's Giving Stats: