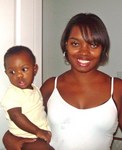 ladybug
Location: Debary,FL
Occupation: Homemaker
My Passions: I am have a passion for helping children! I love all babies and children and hate to see any child hurt and in need. I love to see happy kids. That's what this world need. Good, healthy, happy and safe children. Thanks!
About My Inner Philanthropist (why I give): I give to help prevent poverty and despair. I have to do something and in doing something, I get a tremendous amount relief in knowing I did something. I did all that I can do thousands of miles away. We need more people giving and doing all that they can to prevent poverty!
ladybug's Giving Stats: